Early Access demo is out!
---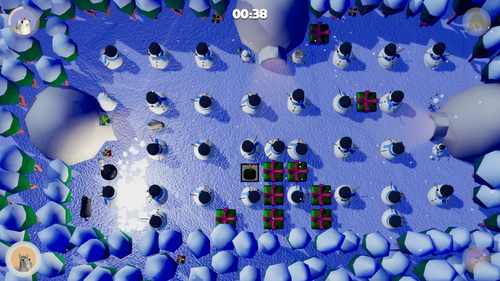 Woohoo!! We are pleased to announce that Bomber Barn is coming to Steam Early Access before the end of the month.
To give you a very accurate taste of what to expect, here is an updated 100% free, playable demo with lots of enhancements from the past few weeks, including...
Random map vote
You can now abstain from map voting and pick "?". Hint: if a random map is selected, you can potentially end up on a map that you... *gasp* haven't unlocked yet! Give it a try sometime.
Added Tutorial
It's a watch-and-learn segment (no interactive tutorial yet), but it should prove helpful for first-time Bomber Barn players.

Match Complete screen fixed
When you finish a match, the background no longer shows one of the forest-farm maps -- you'll see an angle of the battlefield that you were just on.
Pause menu fixes
There were a bunch of pause-related issues, but I think we're set now for the most part (for example, the music stops).
Input hints on menus
Generally, we show you what button to press to go forward/back in menus.
General UI/text changes
We've clarified some language and UI elements in various places so the overall flow before/after games should be a bit smoother.

Our latest map, Icehouse, is also going to be included in the Early Access release. But as mentioned earlier, you might get lucky and land on it during a Random map vote ;)
- Larry, Late Leaf Games

Files
Bomber Barn v0.6.2 Demo Win.zip
38 MB
Jan 22, 2019
Bomber Barn v0.6.2 Demo Mac.zip
47 MB
Jan 22, 2019